Hopspots creates play, learning and movement
Within the healthcare sector Hopspots can be used for so many different things e.g., activation, teaching and entertainment of hospitalized children, rehabilitation or just general activation of elderly citizens or sick children. Hopspots combines movement with play and learning and can be used for both physical and cognitive training as well as developing collaboration skills, improving focus, memory etc.
Research shows that movement increases learning and with Hopspots movement is used together with and for practicing so many different skills. The players are motivated via the game logics, the sounds from the games and the colorful spots with light in to move, play and learn, and thereby Hopspots improves among others fitness, focus, working memory, overview and collaboration skills.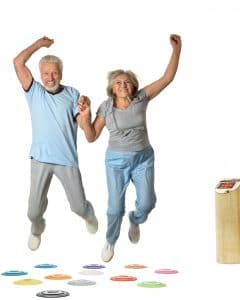 Make your own games for all ages and levels
The interactive learning tool, Hopspots, can be used by anyone from 3 years and up as you can programme your own content in the games. In the Hopspots-games Mix'n'Match and Code a Spot you can make your own games and in that way both of the games can be used for all ages and academic levels – whether you want to use them for tricky quizzes or physical or cognitive rehabilitation is up to you, the possibilities are endless. Besides from the previously mentioned games, Hopspots also contains The Chase a movement game, Sequence, which challenges working memory and FlowDance a music- and dance game. All three of which can be used by anyone because we can all benefit from practicing and playing with the above-mentioned skills.
Fun interactive story for hospitalized children
The Hopspots app also contains the interactive story, The Island, a game designed for children at the intermediate stage and lower secondary education. Children have to listen and read a lot in the interactive story, and use Hopspots for physical exercises in the game. The interactive story is a completely new way of creating teaching be it within social science subjects, literature classes etc.
The Island is a game you can play both from the bed at the hospital in case you are hospitalized and too tired to move one day, or you can play the physical collaboration games with your family, friends or children at the hospital.
Hopspots is for many and few
The Hopspots-games are designed to activate a large group of players either by dividing them into groups or by having everyone play at the same time, depending on the number of players and the academic level they are at. However, you can also easily play the games alone or together with a few people. In that way Hopspots can activate an entire group of children, work as teaching or entertainment for children, entire families etc.
Takes less than 5 minutes to set up
Hopspots is quick and easy to set up and players can easily help with that. The physical spots have a wide range, the app is very intuitive to use, allowing even young children to do so, and the speaker unit is easy to move around and use when playing or when charging or storing Hopspots.
Help with getting started
When you buy Hopspots the following is included for free:
Free delivery
Free start-up course
Free support
2 years of warranty
Easy access to instruction manual
Easy access to step-by-step guide for all Hopspots games