WHAT is a Hopspots Key:connector?
Hopspots Key:connector makes it possible to connect Hopspots to a computer. The Key:connector appears as a wirelsse keyboard, when turn ON. You can then connect the different Hopspots-tiles, so that they represent a wireless key on the computer. You can now use your body to type on the computer. Now how is that useful?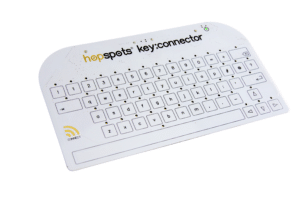 The possibilities are plentiful:
Use Hopspots for playing existing games controlled by keys. Like arrows for instance.
Write with your feet.
Make your own game in Scratch
It is easy to make digitale games more physical and engaging when you connect the Hopspots tiles to a computer. In this way we can focus more on the social aspects and have fun together, when we play and learn.
HOW do you use it?
Opsætningen er enkel:
Key:connectoren tændes og kobles til en computer, som et trådløst tastatur.
Herefter tildeler man taster, ved at holde 'connect' og den valgte tast inde på boardet – det kunne f.eks. være pil op.
Tastaturet blinker og man træder på den ønskede Hopspots-brik, som man ønsker at tildele.
Herefter giver et tryk på den valgte Hopspots-brik et input til computeren, såsom pil op.
WHY is it a good idea to use?
Hopspots Key:connector connects the body to the computer and makes it possible to interact more physically with you peers, when playing on the computer. The key:connector opens up for a range of possibilities where only your imagination is the limit: Want to challenge a friend playing a fun game? Want to jump your way through Subway Surfer? Or code your own game in Scratch? Want to combine learning with movement?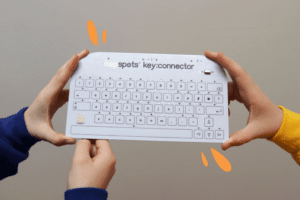 Hopspots key:connector also builds upon the knowledge we have about combining movement with learning, where it has proven to increase learning when you get more oxygen to your brain, but also because we earn in many different ways, when taking your senses into the process.
Get inspiration at www.mocody.dk and learn to code your own game (currently only in Danish). A good lesson to begin with could be the MATH Game that is found here: pdf-format (in Danish). You can also try other projects in Scratch.
An otter possibility is to find games on www.arcademics.com and play it with your feet.
Have fun finding new ways to use Hopspots!