Hopspots and special needs
Creates play, learning and movement
Combine learning, cognitive training and play with movement. Hopspots helps to move away from passive teaching and listening. The interactive tiles can also be a new way of creating movement in physical education or during normal school days. But Hopspots can also be used for targeted training or rehabilitation for groups or individuals.
Research shows that movement increases learning and Hopspots is used to develop motor skills, fitness, focus, overview, collaboration skills, and much more.
Ready to use games
The sounds from the games, the colourful tiles, and the gamification element motivates children to move, play and learn in a brand new way.
Hopspots can be used by anyone from the age of 2 years and up. You can use the games that are available and ready to use in the Hopspots App to get started quickly and without fuzz. What are the games like? Here's a short description of some of them:
The Chase is a movement game where you have to catch light on the tiles. You can play in teams or one big group. And you control the difficulty yourself, depending on how far apart you place the tiles or how many you have active at the same time!
Sequence is a game for training cognition and working memory. You build a sequence on the spots by stepping on them – adding one spot for every round to make the sequence longer. Then you have to remember the order in which you step on the spots to continue in the game and make the sequence longer and longer.
FlowDance is a music and dance game where you can make your own piece of music using the instruments that have been recorded onto the spots. Once you've composed your masterpiece, you can record a dance on the spots that you think fits the music and have a dance off with your friends.
Create your own games
You can programme your own content in the games and target them completely to your purpose. The programming is very simple as you just use the microphone in the iPad to record your own sounds for the games – you could for instance make a memory game in Mix'n'Match where you have to find the pairs that match..
Want your pupils to practise the order in which you put on your clothes? Step on one spot and you will hear "socks" coming from the speaker, the next spot says "underwear", "shirt" and so on. The pupils then have to place the spots in a row creating the right order.
This was just an example of how Hopspots can be used to teach ordinary, everyday tasks. But you could also use the game for subject specific teaching such as placing the numbers from 1 to 10 in the right order.
At Geelsgårdskolen, a large special needs school in Denmark, they made a memory game where the pupils have to match each other's names with something that characterises each of them. They pupils thought that was a lot of fun.
The children find it easy to use. They just jump right into it. The children that I work with are also very good at programming their own games.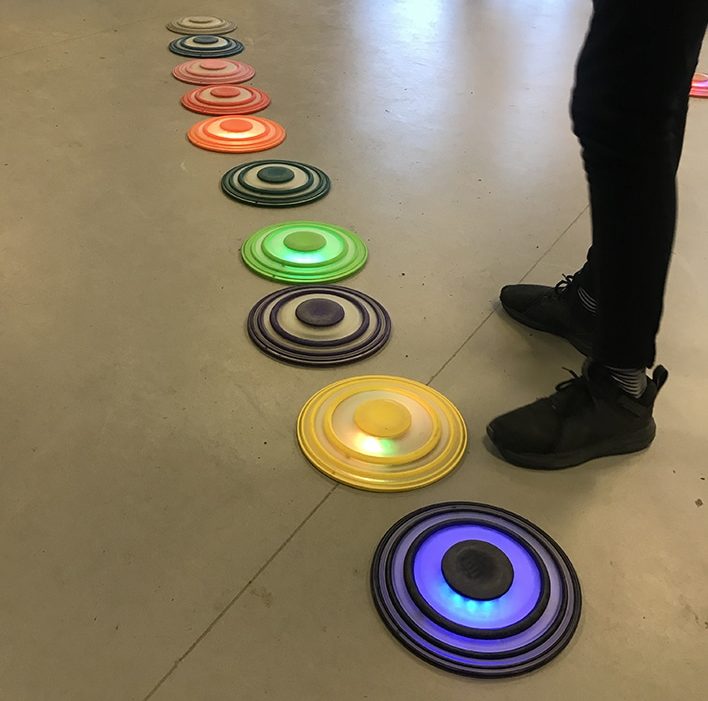 Both the games Mix'n'Match and Code a Spot can be used for all ages and levels – no matter whether you want to use them for tricky quizzes, rehabilitation programmes with specific exercises or something completely different.
Hopspots is for groups and individuals
The games are designed to activate up to 30 players, either by dividing them into groups or playing all together – depending on the number of players, their academic level, and the game. But you can also play with only a few people together or even alone.
Everyone can participate in their own way – even if a child has limited mobility, they can still participate because Hopspots allows everyone to play no matter their physical or cognitive level.
Get a free demonstration
We will be happy to demonstrate Hopspots to you either live or through our resellers in the different countries. You are also more than welcome to contact us with your questions on: 31 13 26 18 or info@hopspots.dk.