How can teachers incorporate active learning into teaching?
Studies show that students learn better when they move and actively participate in the class. Incorporating movement throughout the school day makes them less impatient and more focused on learning.
Hopspots is developed by Child Experience Design, CxD. Hopspots is an interactive learning tool with additional games and exercises that all focus on movement, play and learning in relation to teaching. Hopspots combines technology and physical space and focuses on the interaction of children. The children get to be part of creating their own educational material and become part of an innovative proces. This is expressed through the possibility to self-program Hopspots's games, for example recording your own sounds. In that way the games can be customized the individual needs of the children.
Hopspots consists of 12 interactive, wireless physical spots that are connected to an iPad and speakersystem. Children are empowered to move, while learning and playing at the same time.
Hopspots's games are developed for pre-school and and primary school children (age 2-10). During spring of 2017 games suited for older children will be launched.
Hopspots creates 
Different challenges

Motivation to move

Co-creation of own educational material

Cognitive training

Social training

Language learning

Learning
Students create active learning with HOPSPOTS
Hopspots focuses on movement. With Hopspots children are motivated to move while they play and learn at the same time. The different games challenges the children to hop, crawl, dance and even run.
The games can easily be expanded with personal sounds as the pupils becomes co-creators and can record and make their own games. In that way it is possible to become producers of their own content rather than just consuming. This is a simple way of programming that engages children and makes it possible to work with a wide range of subjects.
Language learning is an important part of Hopspots where children can strengthen their language and learn new words and contexts. By listening, reading and writing new words children can expand their vocabulary.
Hopspots can be used to train attention, enhance memory and planning ability. It helps children to concentrate and stay focused. Several of the games are designed towards children with special needs, such as ADHD and autism as the games support cognitive training with use of the senses and bodily movement.
HOPSPOTS GAMES
Designed for and with children
Mix'n'Match
Enhance your memory with Mix'n'match. Also, try to learn different languages when you program your own memory game.
Sequence
You can make cognitive exercises with Sequence. Sequence trains the memory where children have to remember the order of spots. 
The Hunt
Get your heart rate up with The Hunt, where you have to challenge you classmates by catching the light on the spots.
Code a Spot
You can program the spots with your own game in Code a Spot. Students and teachers can experiment with the spots' light and sound through the game screen on the iPad. 
Hopspots comes with:
An app with 4 games and access to the learning material

Future releases of new games, minimum 2 game per year

12 interactive, wireless spots that are connected to an iPad and speakersystem

A speaker that also serves as the storage and charger of the hopspots

Works with iPad

Price exclusive VAT: € 3300 + € 600 for yearly subscription

Free support with your subscription

 
"Sometimes you want to move rather than sit down and learn. Hopspots is much more fun to use than sitting to read and write! "
I wish we could play Hopspots every Tuesday!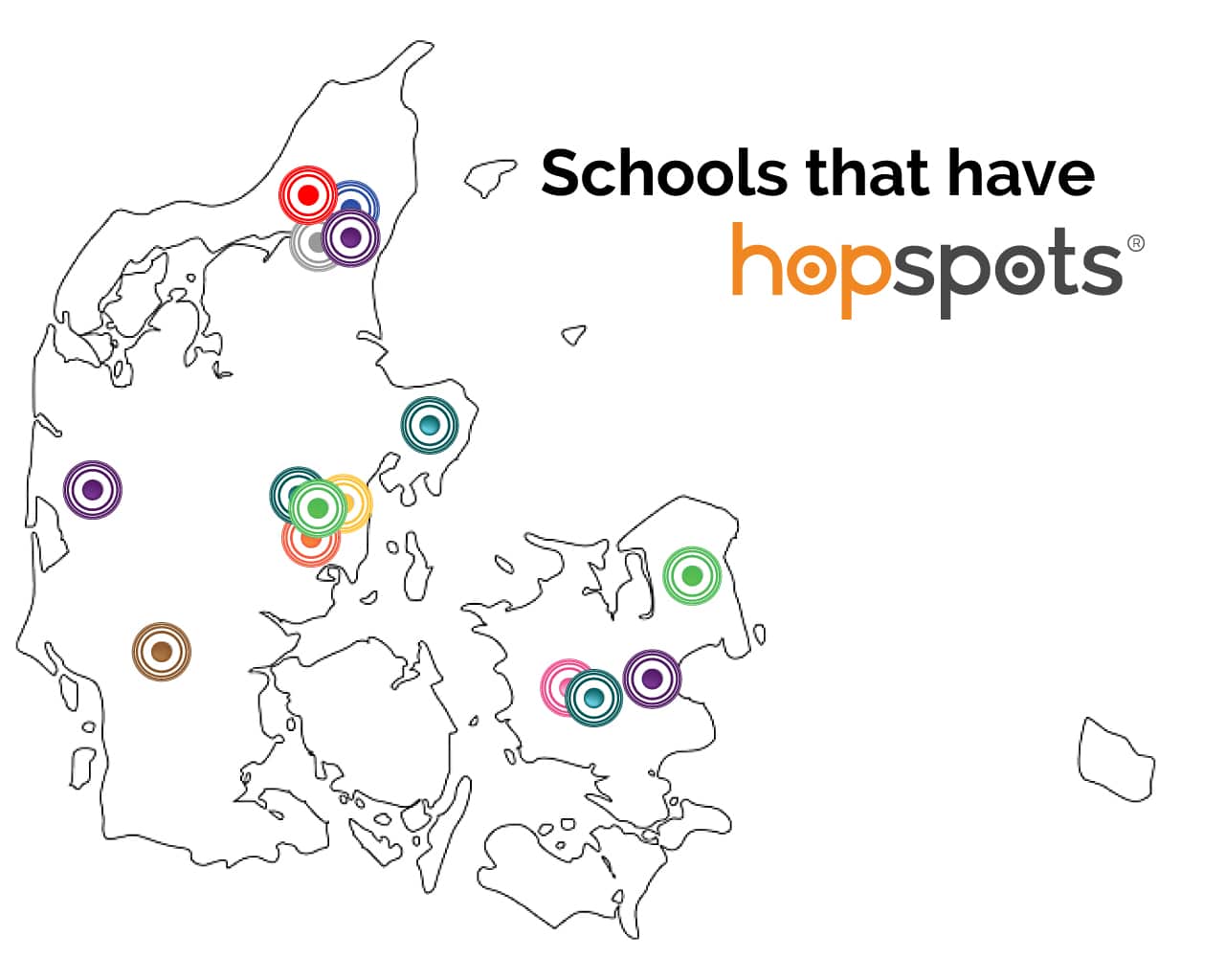 Center for Læring, Aarhus

Stensagerskolen, Aarhus

Ådalskolen, Ringsted

VihTek, Region Hovedstaden

Midtbyens dagtilbud, Aarhus

Herningvejens skole, Aalborg

Center for Velfærdsteknologi, Aalborg
Dagmarskolen, Ringsted

Højmarkskolen, Holsted

Rathlouskolen, Odder

Uglegårdsskolen, Solrød

Ringkøbing skole, Rindum

Sofiendalskolen, Aalborg

UCN – CFU : Aalborg

Djursland skole
Child Experience Design
Godsbanen, Perron 2, Skovgaardsgade 3, 8000 Aarhus, Denmark
Mobile: +4531132618
Email: info@hopspots.dk
Web: www.hopspots.dk