Hopspots in daycare institutions
Active learning
Research has shown that physical activity and increased blood flow to the brain have a positive impact on children's cognitive development.
Hopspots' engaging games, sounds, and visuals encourage children to be physically active and learn, which can help enhance their focus, attention, and cooperative skills. By incorporating Hopspots into their curriculum, daycare institutions can create fun and engaging learning environments that promote holistic development among young children.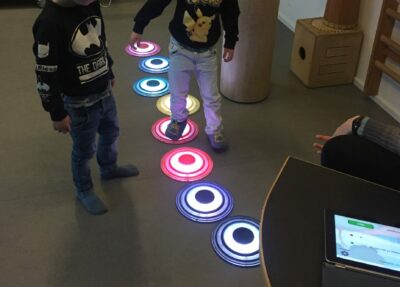 Learning and exercise with Hopspots
Hopspots is designed with children at the ages of 3 to 15 in mind. Its games, The Chase, Sequence, FlowDance, Mix'n'Match and Code a Spot are made to engage young children and assist them with a focus on movement, cognitive training, music and memory games.
Both Mix'n'Match and Code a Spot allow you to programme your own content, which makes it possible to use the games for almost anything and here's just a bit of inspiration:
The possibilities are endless with Mix'n'Match and Code a Spot! Click on the image above for more inspiration.
Different levels with Hopspots
Play the pre-programmed games
When you begin using Hopspots, you start with the 5 simple and quick games: The Chase, Sequence, Mix'n'Match, Code a Spot and FlowDance.
These games involve movement and fun where some can be used for brain breaks and others as part of teaching lessons.
Produce games for the children
Creating courses and exercises is an intuitive process which enables you to incorporate educational material as you see fit.
You can build your own game in a manner of minutes to be used in almost any teaching or exercise situation,
The children create their own games
The highest level of use and difficulty is when the children become part of the creative process and produce games for themselves.
Even very young children can easily figure out how to make their own games. When children unleash their creativity, their focus sharpens and learning increases.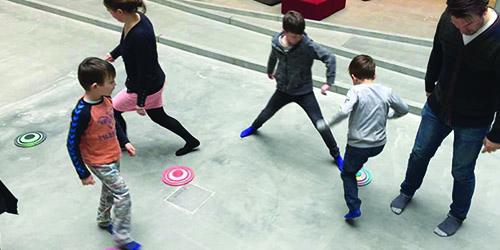 Takes less than 5 minutes to set up
Hopspots is designed for children have no patience and pedagogues with no time for problems with technology when it is time to play and learn.
We created a product that is fast and easy to set up and where the children can easily help the adults out. The Hopspots have a wide range and the app is very intuitive to use, allowing even young children to do so. And the speaker unit is easy to move around and store.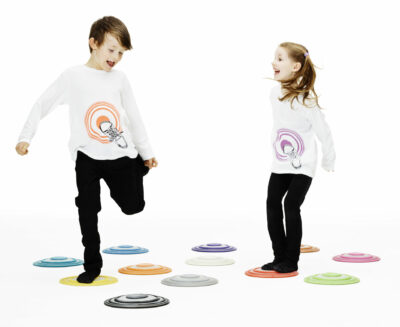 Getting started
When you buy Hopspots, the following is included for free:
Free start-up course
Free support
2 years of warranty
Easy access to the instruction manual and step-by-step guides