Hopspots a part of new Science Gym in Sweden
By Trine Askjær-Jørgensen – Communication
Back in April Hopspots participated in the SETT tradeshow in Stockholm Sweden, where I was at Lekolar's stand, showing Hopspots to lots of interested visitors. Several times Caroline and her co-workers from Region Kronoberg in Sweden stopped by me to check out Hopspots. 
They all fell in love with the interactive learning tool immediately and thought it would be perfect for their future Science Gym, which was to open this summer. Shortly after the tradeshow in Stockholm Caroline contacted us as she was ready to get started with a set of Hopspots in Sweden. SO ready that we sent it to them in the middle of the summer holiday, before we even had the time to go there and give them a start-up course ourselves.
This August we then visited Caroline and her colleagues in Sweden, where we introduced all of them to Hopspots. They were so excited about it and really looking forward to showing Hopspots at the opening of the new Science Gym on August 31st.
A technology-filled tent with a focus on making movement fun.
The new Science Gym is created by Region Kronoberg together with Generation Pep and Funkibator. Generation Pep, with the Swedish crown prince couple as initiators, is a non-profit organistion with the purpose of conveying knowledge and creating engagement in the health of children and adolescents. Funkibator is an association with the purpose of improving the life quality of people with disabilities.
In a collaboration with those two parties, Region Kronoberg opened their Science Gym about 4 weeks ago. It is a 180 m2 tent full of technology with the focus of making movement fun. The purpose of the Science Gym, which will be touring and visiting different cities in Sweden over the next period of time, is to get more children and adolescents interested in moving. Thus, the visitors will be inspired by digital technologies and how they can be used to counteract the effect of sitting still for hours, which is a challenge for most people today.
Hopspots combines STEM with movement
Besides from using modern technologies for making movement fun, the focus is also on increasing young people's interest in technology. Because, Region Kronoberg also want to strengthen the STEM-subjects (Science, Technology, Engineering and Mathematics), which are becoming more and more important in our everyday lives and work today. With Hopspots they are now combining the scientific subjects and the interest in technology with the body and physical movement, because as they write in their Instagram post, Hopspots is "creative learning through movement".
After Lessebo the Science Gym and Hopspots moved on to Pep-dagen in Stockholm, which was on the 8th of September. Follow Region Kronoberg on Instagram to see where Hopspots travels next with the Science Gym. We are excited to see what this new initiative brings and are proud and happy that Hopspots is showing people all over Sweden that movement can be fun.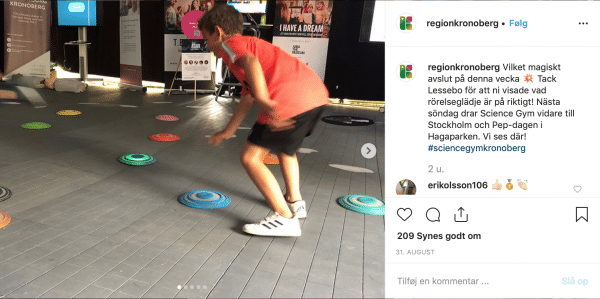 In the first city that the Science Gym-tent visited, Lessebo, it was clear what fun movement is. Here with Hopspots.