GET STARTED WITH CODE A SPOT!
Dear Hopspots-user
We hope that you to to experiment a little with Mix'n'Match! The more you try the more you will learn about how to best use the game in YOUR teaching and with YOUR students.
In case you missed the previous email about Mix'n'Match, you can find it right here.
Today, we want to introduce you to the game Code a Spot, which is full of possibilities.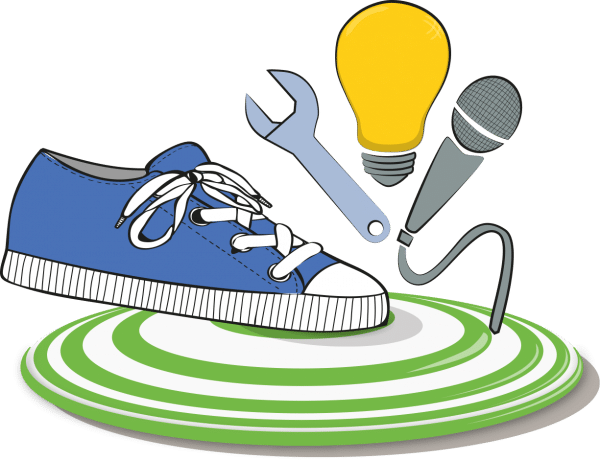 Code a Spot is an open platform that allows you to programme whatever content you like onto the spots.
It contains three preprogrammed games:
One with music and sounds,
One with an interactive story of which you have to find the right order,
A movement game, which gives you instructions on how to move from spot to spot.
Get started with them in order to get an understanding of the platform and ideas for making your own games.
Find more information on how to play Code a Spot in the game guide. You can also find inspiration for making your own Code a Spot-games in the different school subjects here.
You can start by watching this 1-minute video.
Tip: Code a Spot is great for making your own interactive stories. Divide the kids into groups and have them make stories for each other.
In practice:
Remember that you can download the Hopspots app on as many iPads you like, and that it does not have to be connected to the spots or the speaker unit when you make your own game content. Thus, you can easily prepare the games ahead of class.
Code a Spot works really well with small groups. If you prepared a game ahead you must take into consideration how many students you can activate with it, and what you will have the rest of the students do in the meantime – or they can watch the ones that are playing and learn from that.
The students can also make their own games – in that way everyone is activated easily: Divide the students into groups and have each group make their own games. You can print this template, which they can use for inspiration and plan how to programme the spots. Depending on the number of iPads you have, the students can take turns at programming their games in the app and playing each others games.
NB. Whenever you change iPads with Hopspots, you have to do a Colour pairing before the spots are ready for playing.
Press Settings in the app, then mark Spot Master (becomes green), pick Colour pairing below it and follow the instructions on the screen. Now you are ready to play!
The first time you connect and iPad with the spots it can take up to 8 seconds from when you step on the spot until it connects and shows a white light.
You can find more details in the manual.
How to make Code a Spot part of the everyday:
Just like Mix'n'Match, Code a Spot is great for storing the newly acquired knowledge at the end of class. It could be numbers, letters, historical events and so on, which are placed physically in the right order after each other.
The students can also use their creativity to come up with their own stories and fairytales or they can make fun movement games for each other. Movement games are obvious candidates for games in language subjects or P.E., where the level of difficulty can be increased by way of the instructions that the spots give.
That's it for now!
We hope that we inspired you to start using Code a Spot as part of your teaching. And, once again we will encourage you to share you experiences and ideas with your colleagues.
In the next email, we will introduce you to the music- and dance game FlowDance! If you can't wait till next time, you can of course read ahead by clicking "Next" at the bottom.
Have fun with Code a Spot!
Best regards,
Aviaja and Trine from the Hopspots Team