"The child comes out in us" – HOPSPOTS IS FOR EVERYONE
Today Hopspots is used in several other places than the Danish primary school, namely also in SENs, in child therapy and now also at health centres.
Based on a demand for using Hopspots in other places than schools, which have so far been our primary target group, we have the past couple of months examined what Hopspots can contribute with to an older target group and we got great feedback.
Our examination among other things consisted of user tests with the elderly and interviews of professionals who have also tried Hopspots. Among other places Hopspots have been implemented at Hjørring Sundhedscenter to great amusement for younger as well as older people in Hjørring. Hopspots is here used for both interactive training for people with brain damages and dementia, for groups of children, and for people in rehabilitation. We interviewed Lene Ellgaard from Hjørring Sundhedscenter about her experiences with using Hopspots for an elderly target group. The experiences in Hjørring together with our own tests show that also elderly people can benefit from using Hopspots, particularly when it comes to physical training, mental training and social skills.
PHYSICAL TRAINING
Several of the games get the heart rates going in the players and they are challenged physically. This is a central element in the games The Chase, FlowDance and Code a Spot.
In The chase the players have to hurry from one spot to another in order to catch the light thus they train their speed and reactivity. It is possible to play in two teams and compete on who can catch the most lights. If you like this game you can continue to more difficult levels, where you for instance have to press each spot several times, stand on each spot for a while or sit on the spot (e.g. on chairs). This makes it possible to vary the training and train different movements.
– One day on one of our neuro-groups we had them go all the way down to touch with their hands and so on. Then it's not just the foot. The Chase is the game that gets them going the most they actually run around (Lene, employee at Hjørring Sundhedscenter).
In FlowDance you first compose a piece of music using the spots and afterwards you choreograph a dance on a number of spots, which you choose yourself. When the dance has been recorded the same or a different player can try to imitate the dance as the spots light up in the recorded order. In our tests we experienced that the players spontaneously danced and had fun recording the music thus they got their heart rates up both while recording the music and by recording and repeating the dances, where the player's reactivity was tested.
– Phew, this is just as hard as when we do our regular exercises (older female test participant about the game FlowDance)
Code a Spot is a game, where you can programme the spots yourself to say whatever you like. Here you can for instance make a game where one of the spots says "Walk backwards to green" when you press it and the next one says "Turn around to black". In that way you can create a path of movements customised to a specific target group and emphasise the movements that are specifically difficult or important to train for each of the users. Depending on what the users are preoccupied with you can make different paths that train balance, flexibility, fitness or body strength.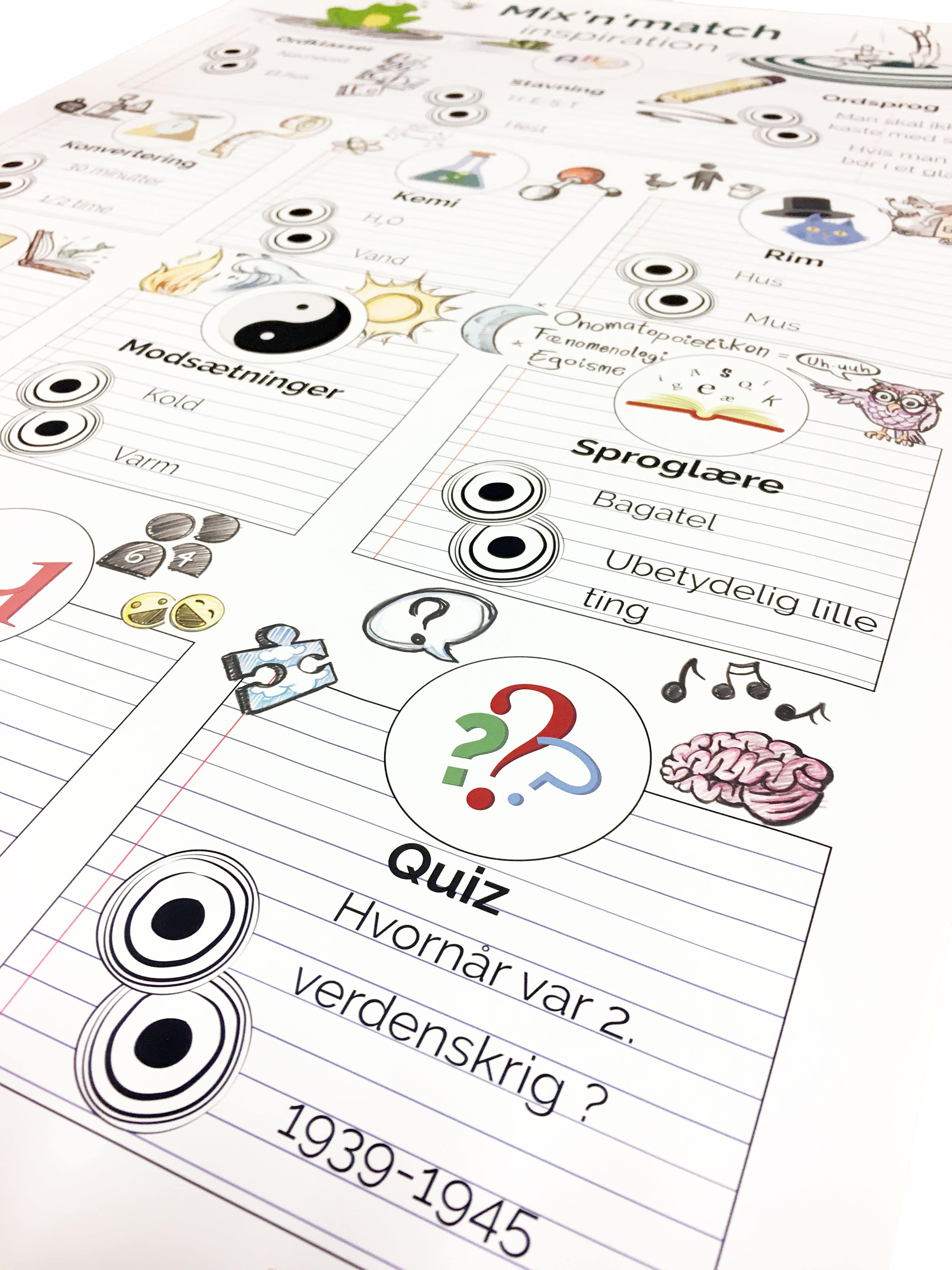 MEMORY TRAINING
Cognitive training is an important part of several of the games in Hopspots. Particularly the games Sequence and Mix'n'Match places emphasis on the memory.
Sequence has been developed to train memory using different strategies. You create a sequence on the spots and then you add a new spot to it. Every spot has its own sound. That makes it possible to remember the sequence using the colour of the spots, the sounds they make or the movement that the player makes in the room when pressing the spots. That is, memory training that isn't just in the head:
– They also figured out how Sequence works. They failed perhaps after 6-7 spots. It's the same for people with brain damages. We never got all the way through the entire sequence (Lene, employee at Hjørring Sundhedscenter).
Interviewer: Is it a hurdle for them that they also have to understand the digital part of the game?
– I don't think so, not even for the most brain damaged participants we have had. It took maybe one or two games then they were running around. When you make sure to get familiar with it, it's pretty easy to understand (Lene, employee at Hjørring Sundhedscenter).
Another game for training the memory is Mix'n'Match. It is a new version of the classic memory game. A sound is attached to a specific spot and is played when you step on the spot. Instead of two alike you have to find a pair. That could for instance be a capital which is linked with a country:
– We did the one with the capitals and the countries. Afterwards we had a couple of people who asked for it. Can we try it again? They thought it was fun. It was both cognitively and physically challenging. They found that particularly fun (Activity employee at care home, Aalborg Kommune).
FUN AND SOCIAL
At CxD our aim isn't just for Hopspots to help out with physical and mental training but also that people have fun when they use it. Thus, we are happy about all the feedback saying that it is fun to play with Hopspots and that the players enjoy cooperating and helping each other through the exercises.
– We used it, and they think it's fun […] I think we are successful with it (Lene, employee at Hjørring Sundhedscenter).
Interviewer: Did it also turn into a social thing to them?
– Yes, it did. Also in the way were you say, "Hey, there is a green one behind you, you're on the green team". [Interviewer: So they can help each other?] Yes, they can easily help each other and they do. Also with Sequence and with Mix'n'Match, the one with the animals and so on" (Lene, employee at Hjørring Sundhedscenter).
– I thought it was fun to play. […] The child comes out in us [Interviewer: Is that good?] Yes, I think it is. It's good to try (Older female test participant).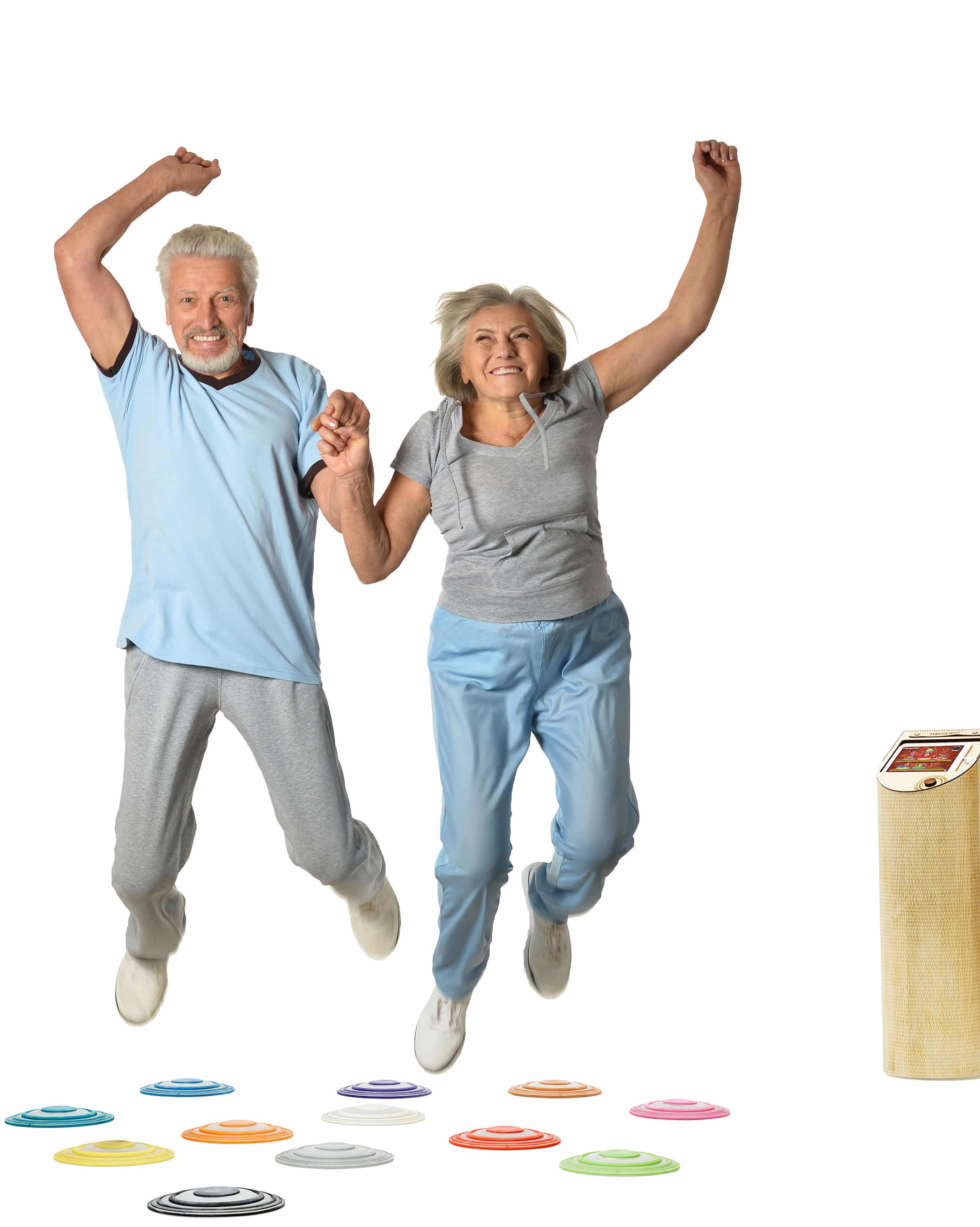 All the games have in common that they make possible creativity and play in the training. The users become co-creators of their own training and learning by recording new sounds and instructions themselves.
Since our very first experiences with an elderly target group have been successful we have now started figuring out how we can adapt our games to suit this target group even better. If your company, municipality or institution is interested in a cooperation on more play and interactive training at care homes and other institutions and offers targeted towards elders then don't hesitate to contact us so we can talk about it.
If you are interested in checking out and trying Hopspots you can find them at Center for Velfærdsteknologi in Aalborg and from January 2018 at DokkX in Aarhus. As usual you are more than welcome to contact us and book a free presentation of Hopspots.