The SEN school Stensagerskolen: "Hopspots is awesome!"
We are thrilled to see that Hopspots creates value for so many different children in schools all over the country. At the SEN school Stensagerskolen in Viby just outside of Aarhus, the children love Hopspots, and they use it several times a week. We talked to Randi who teaches the 3rd grade.
Randi scheduled the use of Hopspots and uses it two days a week together with her 3rd grade, particularly when they have P.E. Randi implemented Hopspots in her teaching because she wants "P.E. to be more than just running". She was pleasantly surprised to see how well Hopspots works and to see just how much the children actually move. When using Hopspots children can keep their focus for about an hour, where they usually lose the motivation and focus after just 10-15 minutes. They are completely done after an hour of using Hopspots, Randi says.
"Hopspots is a great way of combining both cognitive learning and physical activity. Learning easily becomes something that is done sitting, and that's exactly why Hopspots is so great. That's what we really like!"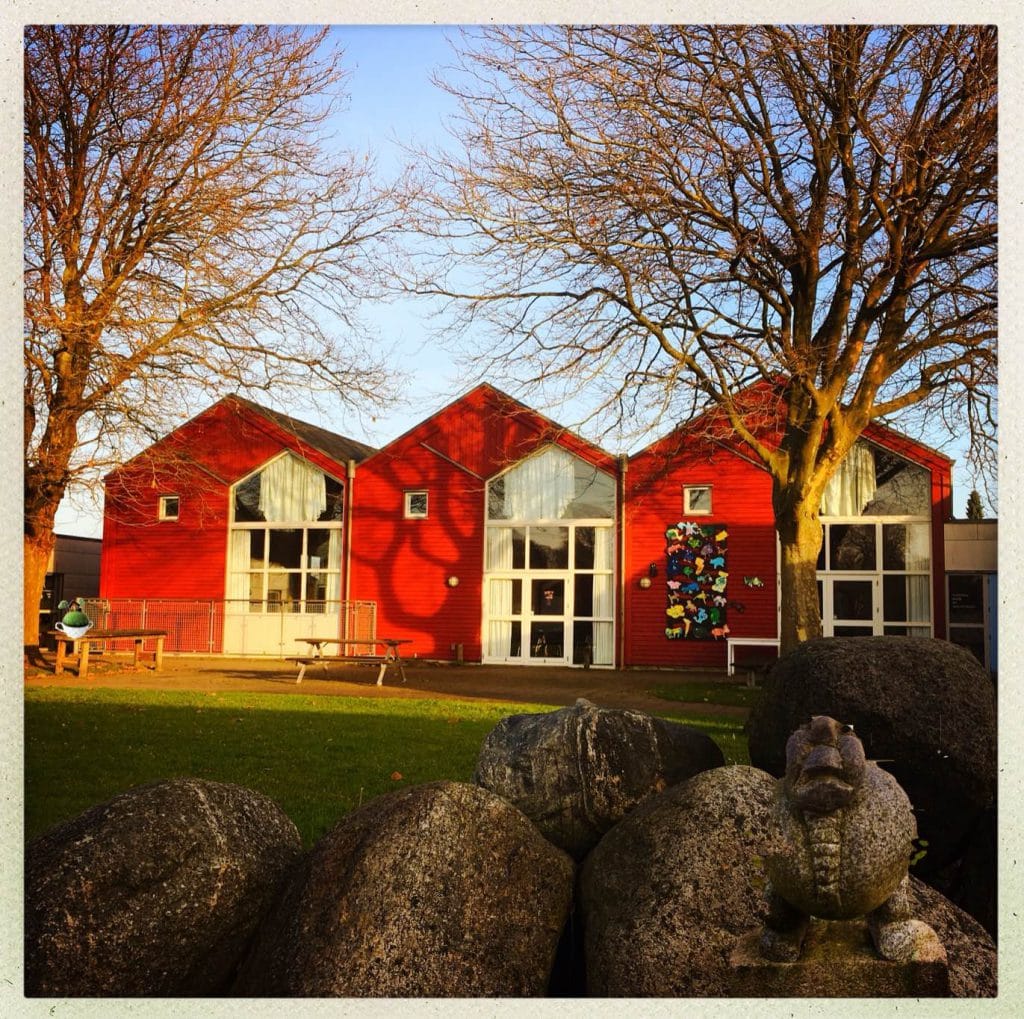 Stensagerskolen in Viby
SEN school – Stensagerskolen is a school that does a lot of experimenting and works with and tries out many different methods for learning. That's why it was only natural for Randi to try out Hopspots and to test it together with the children. Learning by doing is an important part of the school and it is important for the children to have the chance of seeing and feeling when learning.
Hopspots among other things helps the children at Stensagerskolen with matching things that belong together, telling the difference between things, counting, collecting points, getting an overview, spotting opposites, distinguishing colours, learning terms and training memory. The children learn to cope with many different things at once and Randi experiences that they really take the lead and act as facilitators, something that the school rarely sees otherwise.
"It (Hopspots) really challenges them in their learning"
Randi thinks there are a lot of possibilities in Hopspots' open and accessible universe, where the children can become co-producers of their own teaching material and add their own touch to the games. Several teachers at Stensagerskolen have shown their interest in Hopspots. Randi plans to gather a group of interested people and facilitate mini courses on how to use Hopspots in the teaching in order to increase the use of Hopspots at the school.
Hopspots is constantly developing and we are getting more and more knowledgeable about what Hopspots can do and what things to adjust. Randi did some excellent observations and experiences that we will definitely consider in order to improve Hopspots and make it even better for children with special needs.
It's not just at Stensagerskolen that they see possibilities in Hopspots. Several SEN institutions among others Højmarkskolen in Holsted, Ådalskolen in Ringsted and Børneterapien in Gentofte see a lot of potential in the games. Børneterapien is particularly happy about the game Code a Spot, where it is possible to programme games to suit the challenges of each individual child. At Ådalsskolen the children change back and forth between 15 minutes of sedentary teaching and 15 minutes of movement with Hopspots, which motivates the children and keeps their focus.