12-year-old Anton presented Hopspots in the Danish version of Shark Tank
By Aviaja Borup Lynggaard, Entrepreneur behind Hopspots
Our dream is to spread Hopspots across the globe. Wednesday evening we took a huge step in that direction when I, together with my 12-year-old son, participated in the Danish version of Shark tank, and got to show Hopspots during the best possible time on the Danish Broadcasting Corporation TV-show.
Back in November we got the opportunity, with a very short notice, to participate in the show. A wonderful opportunity of spreading the word about Hopspots, which I of course said yes to. Hopspots is a small company, and for that reason it can be really hard to spread the word far out.
I think that Shark Tank is the best TV-show at the moment and have not missed even one episode of it. That's why it was also very exciting to get to participate and tell people about Hopspots and its many possibilities.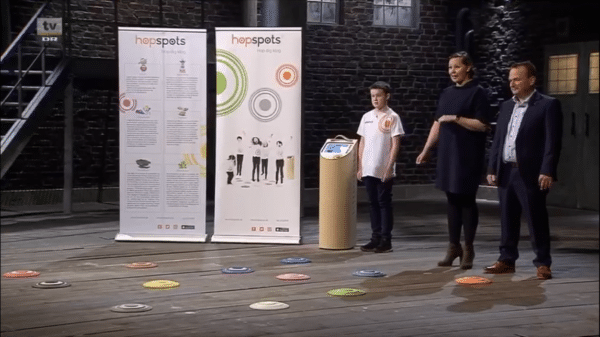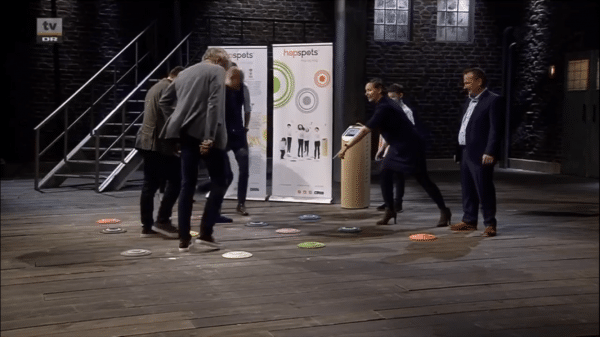 In the meantime we had already started thinking about what the next step should be for these interactive spots, as we have so many ideas for the next generation of Hopspots. Thus the initial work of finding investors had already begun.
I have a dream of spreading Hopspots all across the globe, but doing so does require some extra muscle. The first steps have already been taken as we have translated Hopspots into English and Lithuanian and have found resellers in five more countries than Denmark – but we still have much work left to do.
We got the sharks to play
The trip to the Shark Tank-studio went directly from a tradeshow in Odense, where I had shown Hopspots to Danish principals at their annual meeting. My oldest son Anton, age 12, came with me to the studio to help me present Hopspots. He was also prepared to answer questions from the sharks.
Our investor from Borean Innovation picked us up and together we drove to Copenhagen. He came with us as he has been part of the company's journey since the very beginning, and as he wanted to support an investment with additional funding, which I thought was a great signal to send. Anton has watched several episodes of the Danish Shark Tank thus he joined our talk about valuation, percentages and knowledge about the sharks on the trip there.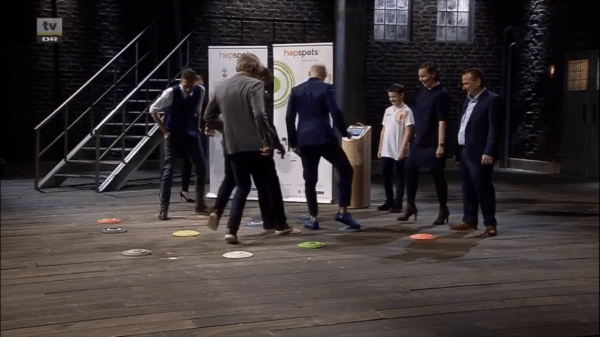 We had our makeup done and were prepared to enter. I had practiced my pitch and felt that I really had my numbers in line.
There was a lot of tension before entering, because it really is not a lot of time that you have inside the tank to tell them everything you want. Luckily, the sharks asked us about the product and they even got out of their chairs to try out one of the games.
The full depth of the games, especially The Island, was difficult to convey in the short amount of time we had in there. That was a bit of a shame as that is actually where we differentiate us the most from our competitors. But the sharks seemed impressed with the fact that I know my numbers and that I have a scientific background, and some really good people supporting me, both in the team and behind Hopspots in general e.g., in the board of directors and advisory board.
Hopspots in the entire Middle East
Unfortunately, we did not get an investor from Shark Tank. It is hard to say why. I do not know if it was because of our valuation, the pricing of the product or if it was because none of the sharks have any expertise within the field of EdTech. It would have been great to have a commercial profil join us.
I still own most of the company, and I think that we are now ready to invite new people into the company, who can give us what we need to make the next big move!
In December we landed an additional investment from Borean Innovation and WB Electronics. We are still open to new investors but we are doing really well in terms of our internationalisation. While Shark Tank was aired on Danish TV, I am for instance in Dubai, where I just signed a new contract with a reseller, who really sees potential in selling Hopspots in the entire Middle East. So we are working hard on getting Hopspots out into the world!
The Danish Growth Fund made this little video behind Hopspots in the beginning of the year.